MOSS FROGS OF SOUTH AFRICA
Recently after arriving in Cape Town in 2021, I started searching and trying to find and photograph all of the described species Moss Frogs Of South Africa. Their diminutive size, seasonality and choice of preferred habitats make these frogs some of the toughest amphibians to track down in the country.
Moss Frogs of the genus Arthroleptella are some of South Africa's most rarely seen and poorly known group of amphibians many of which have tiny distributions and range from least concern to critically endangered. There are 10 described species of Moss Frogs which are all endemic to the Western Cape. These frogs range from just 14mm (South Africa's smallest species of frog) up to 22mm being the largest in the genus.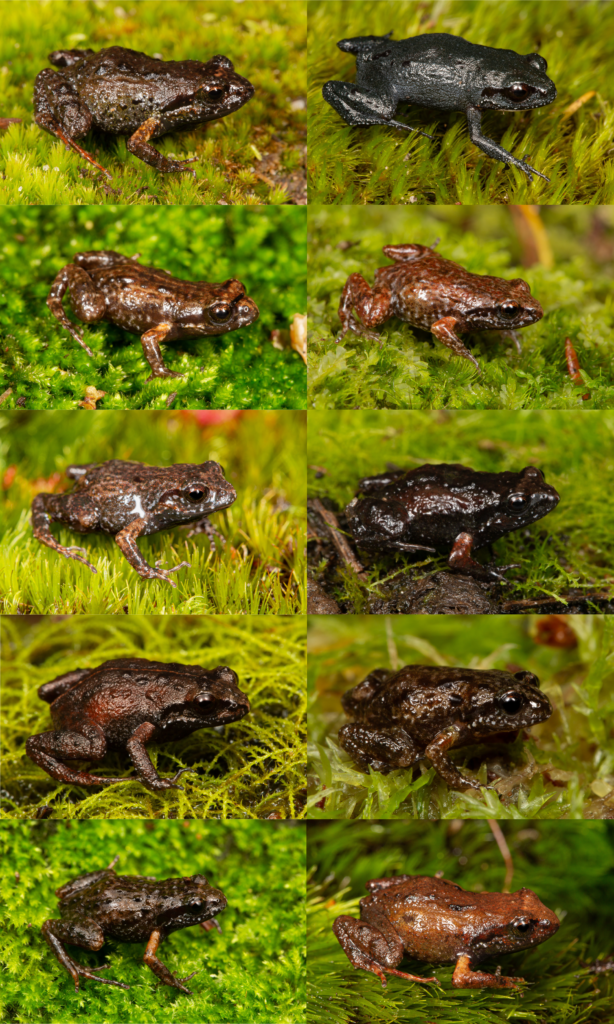 The family consists of the following species:
Arthroleptella atermina – Riviersonderend Moss Frog
Arthroleptella bicolor – Bainskloof Moss Frog
Arthroleptella draconella – Drakenstein Moss Frog
Arthroleptella drewesii – Drewes' Moss Frog
Arthroleptella landdrosia – Landroskop Moss Frog
Arthroleptella lightfootii – Cape Peninsula Moss Frog
Arthroleptella kogelbergensis – Kogelberg Moss Frog
Arthroleptella subvoce – Northern Moss Frog
Arthroleptella rugosa – Rough Moss Frog
Arthroleptella villiersi – de Villiers' Moss Frog
Finding tiny frogs like this does not come quickly or easily, some of these species have taken full days out in the field 8 hour days hiking and travelling to find them. Two species Arthroleptella landdrosia – Landroskop Moss Frog and Arthroleptella draconella – Drakenstein Moss Frog took three and two attempts to finally find and photograph the specimens.
In total, we spent:
We spent 27 hours on the road to get to the locations
Drove 2 215 km to get to the sites (many hours spent walking from the vehicles)
Aproxinamtly 17 hours looking for the frogs once tracked down and a further 62 hours worth of field time.
A huge thank you to Oliver Angus who together we searched tirelessly in mostly freezing cold wet weather and together we tracked down 9/10 together. Chad Keates and Kurt van Wyk joined in on some of the toughest species on our recent missions.